13.02.2008
INTELLIHOME BUSINESS MULTIMEDIA - the perfect complete - solution.
You can achieve your own or your customers wishes in an easy and professional way.
With a single touch ready to present – simply ingenious.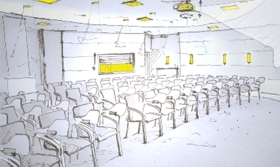 Take the first step to put your good ideas into practice!
BUSINESS MULTIMEDIA - SEMINAR ROOM CONTROLLER!

Due to the development of technology in the modern world of media, a successful presentation has become more of a challenge.
With Business Multimedia from INTELLIHOME every presentation becomes a success for the speaker and an experience for the audience.


With the help of INTELLIHOME, every seminar and media room, event centre or training room in your company will turn into a fully automatic world, trouble free.


A short example: The intelligent solution summarizes and saves the sequence of the most important functions.
At the push of a button, the lights go off, blinds and screens descend, air-condition is regulated and the projection runs.
The operation of the technical applications can happen over a touch panel or a IR-remote control.


All technical elements can be put together in a compact 19" rack which can fit into every room.
back